Learning is Easy When it's Fun
Active Play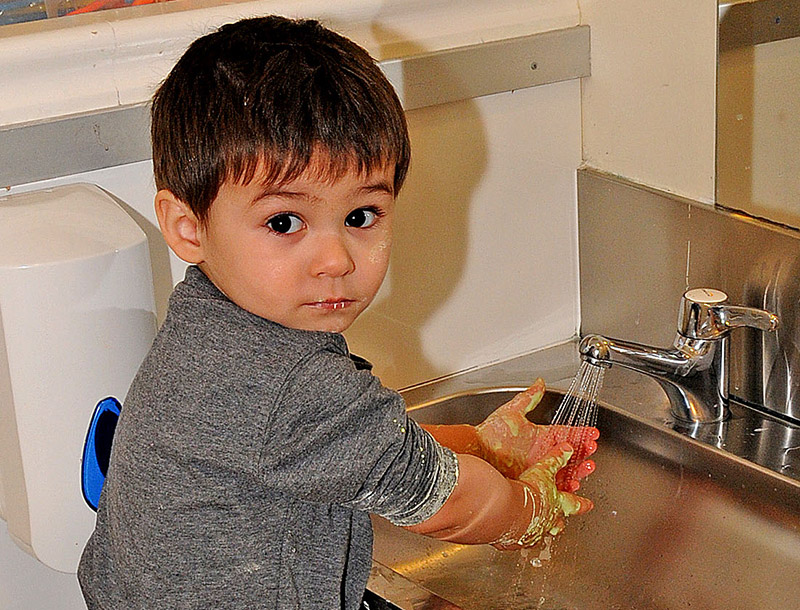 "Children learn best when active," say Early Years practitioners. But what is the best way to be active?
Active play is a way of allowing your children the freedom to explore via their own curiosity through a supportive learning environment rich in materials and resources. The children should be encouraged to develop their natural urge to be inquisitive, to wonder and learn. And that is the environment you will find at the Barnehage.
In June 2013 the Scottish Government published the first strategy for play, which is being used widely across Scotland. It is our mission at the Barnehage to include this policy as part of our daily practice and emphasise the importance of play and the benefits of allowing to do just that: PLAY!
Outdoor Play
Easy as 1, 2, 3. At the Barnehage we embrace the opportunity to provide outdoor play and experiences.
The children are encouraged to use any one of our three outdoor spaces. We have a sheltered outdoor space adjacent to the nursery, with doors opening directly onto it. Within this secluded purpose-built play space, the children can enjoy themselves with paints, water, sand, a playhut and more.
We also have a large, secure grassed space very nearby for us to use with the children, offering experiences of playing and running about on a real grass surface, which is sometimes squidgy, sometimes firm, sometimes wet, sometimes warm and dry, but always natural.
Barnehage children also benefit from our forest school experience for those of them aged three to five. In the forest school, just a few minutes' walk up the road from the Barnehage, the children can climb, explore amongst trees, dig in mud, jump in puddles and generally be out and about in a genuine Scottish environment. We make the most of our outdoor play spaces all year round in all weather.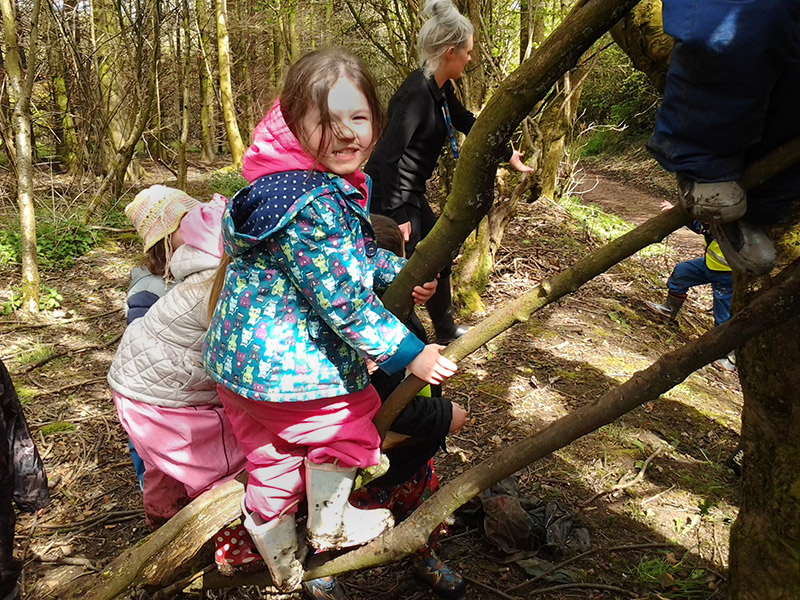 Curriculum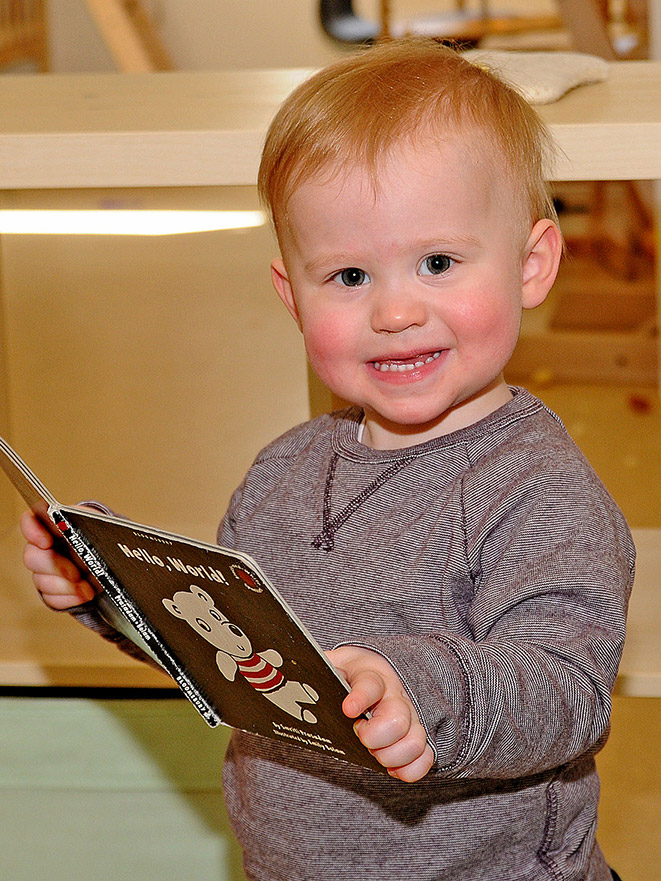 The curriculum at the Barnehage, and the way we implement it, conforms to all current regulations and compliance standards.
The Pre-Birth to 3 Guidelines:
Allow us to build on relationships with the children and parents
Permit us to provide the most rewarding and stimulating experiences for the children
Help us recognise and understand child development
Guide us in planning each child's next step
Enable the children to be challenged in their learning
Help the children move forward in their development.
Barnehage staff are tuned into the children in their key worker groups and are adept at understanding and communicating with children of all ages – we appreciate that babies, for instance, tell us what they want and need by touching, smiling and making sounds.
Natural resources, space and light, as well as fresh air, are provided for Barnehage children on a daily basis, enabling them to enjoy the best environment for their development.
The Curriculum for Excellence:
Curriculum for Excellence is the national guidance programme used by The Barnehage to support our children in developing their ideas in learning.
In line with the Curriculum, we are constantly providing the children with stimulus and experiences and documenting the outcomes, so everyone can be confident about where the children's development is going. We make sure each child's progress is clearly tracked, recorded and shared using our online learning journal, which parents can access individually. This is just one way that The Barnehage helps all parents and children to feel even more involved in the learning experience.
Testimonials
These are just a few of the many positive comments we have received over the years: we thank the parents and guardians who sent them to us. At The Barnehage we welcome feedback of all kinds, it's what helps us sustain and improve our standards.
The best way to judge us, of course, is by arranging your own visit >
The Barnehage has provided a safe, caring, nurturing and stimulating environment for our son since he was 10 months old. For any parent returning to work and leaving a baby for the first time, it is a traumatic experience, but the staff and management at the Barnehage made this transition a more manageable experience for both my Son and for us as parents. The staff are professional but approachable and it is clear from the moment you step in the door that the focus is on the children and their wellbeing and development. I highly recommend the nursery and can only praise them and credit them for the developing confidence and knowledge that my son is displaying at an early age.Laura & Tom Gibson
My little girl absolutely loves going to this nursery. The staff are outstanding at making the kids feel welcome & comfortable while giving an excellent level of care.
My daughter has benefited hugely from the proactive way the nursery operates and I can't thank them enough.
I would 100% recommend this nursery to anyone thinking of using them.
Well done guys & thanks again.
16 August 2016 · Tommy Thomson
Our daughter attended The Barnehage from 11 months to 31 months. She loved it from day 1, the staff are amazing. All staff we met were very friendly and truly cared for the children and devoted a lot of time to teaching the children. Our daughter would skip in every morning and always had lovely stories or songs she'd learned to share with us. Only took her out as we moved and miss it greatly – highly recommend!!
24 August 2016 · Nicola Hardie
My child attended The Barnehage for three years before moving on to primary. She had a fabulous nursery experience. The quality of care was second to none and the variety of educational experiences provided on a daily basis was really terrific. The children were always involved in planning their own learning and in other sorts of learning experiences such as the Christmas fayre, their own graduation, trips etc. I found all of the staff friendly and caring and they gave me excellent information each day about my daughters progress and activities. The managment were also very helpful if I ever had a question or an idea. They were always looking for ways to involve us parents, which is difficult to do when we all work. The faciclites were great- the playrooms light and bright and the garden, although small was very well set out and extremely well used. My daughter also enjoyed outings to the local woodland where she would get extremely muddy, but was so happy building dens and climbing trees. This is something we all used to do as children,but not many nurseries provide that kind of experience and find this very valuable for my daughter growing in confidence and becoming independent, learning to manage new and different situations. I would happily recommend The Barnehage to all of my friends, and I have done, several of whom are now happily attneding this service.Anonymous
Great nursery – I can not fault this nursery one bit, All staff are well experienced really friendly and the standard of care my child receives is great.

I would recommend this nursery to anyone 🙂 Anonymous
The Barnehage was our choice following months of research, looking through the reports and visits to other care providers, in the end it could only be this nursery. From the initial planned visit to view the purpose built facility through to settling our daughter into the nursery, every aspect was just simply perfect. Be assured I would not compromise with our daughter's care & expect the very highest standards, The Barnehage delivered.

Surroundings are very clean, staff very hygiene aware and the natural light environment makes it a healthy place for children.

Without exception the staff at the nursery are positive, happy and helpful with a caring attitude. The nursery staff were a key part of our daughter settling so well, and as a result allowed the return to work to be so much easier.

I would be delighted to recommend The Barnehage. Anonymous
My child has attended this nursery for 2 1/2 years & I can't praise the owner & staff enough for their quality of care & professionalism. My son loves going to nursery. The staff are extremely approachable & friendly throughout the nursery. My son started in the baby room & has progressed through the 1-2, 2-3 & now 3 year old age groups & all the staff have been so caring, supportive & understanding at every stage to the needs of my child & myself (which is a major plus for any parent). They promote learning through encouragement (& fun) which has really helped my son's confidence to try new things. They provide various activites for both development & entertainment which keeps the nursery life interesting for the children. The ratios of children to each member of staff are small which provides excellent care. The staff are all experienced which shows in the level of care they provide. They are genuinely interested in the children & know their individual characteristics & learning needs & abilities. The nursery promotes healthy eating & provides a varied menu which changes weekly – my son loves the food & he always asks for & gets extra. The management has a hands on approach so the quality of care is maintained at all times. Like the staff, the owner & management team are very approachable,friendly & attentive. It is so reassuring to know that my sons development & care is in such good hands – I would recommend this nursery to anyone, without hesitation.Happy Parent
Both of my children have attended the nursery and the owner, manager and all the staff are always very friendly and helpful. My son loved going to the nursery and the nursery really helped with the transition from nursery to school.
My daughter who has been at the nursery since she was 1, has really bloomed since attending the Barnehage, in fact she runs into her room and gets a big hug from the ladies every time she is there.
I would thoroughly recommend the Barnehage to any parent who is looking for a nursery for their child or children.Anonymous
I send both my son's to this nursery and be assured I would only do so if I fully trusted each and every member of the team. I have total confidence in the owner, management and staff in all areas of care they deliver to each of my boys. The approach of staff is always professional and caring. When I leave my children here I can do so knowing that they will be cared for to the same standard they would at home. The facilities are clean and cared for in order to make the learning environment safe and fun. My eldest son will be starting school this year and I know he will miss The Barnehage. From our perspective as parents, the team, in particular the manager and my son's key worker have supported us and my son who has had some of his own personal difficulties with so much professionalism and genuine care. I am not sure if we would be in the position we are currently in without their continued support overall but specifically in relation to his forthcoming transition to primary school. For this we are truly grateful. We have no doubt the the standard of care The Barnehage is offering our sons in the early stages of their education is forming an excellent foundation for their future.Delighted Parent
Food for thought
Healthy helpings of variety and sustenance
Barnehage children are introduced to meals, snacks and ingredients as an important, interesting and even fun part of daily life. We don't simply serve food as fuel (though it has that purpose too, of course), we prepare it with care and present it in ways that help the children know what they're eating and drinking, and why.  And meal times are always sociable affairs.
Contact Us
Visit us or drop us a line